Charged With A Criminal or Serious Traffic Offense in Manasquan New Jersey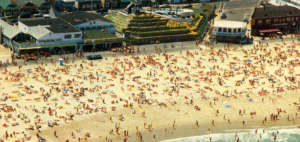 Former Prosecutors & Long Time Resident Of Manasquan
It is certainly helpful for anyone facing a criminal or serious traffic offense like DWI in Manasquan to have an attorney who is both experienced and highly familiar with the key players in the town. Here at The Law Offices of Jonathan F. Marshall, you secure the benefit of not only lawyers who have handled countless cases in Manasquan and Monmouth County but also representation from someone who has resided in the municipality for years. Mr. Marshall and his defense team routinely appear in Manasquan Municipal Court and have been dealing with the judge and prosecutor there for decades. Whether you were arrested for a drunken incident resulting in a Manasquan disorderly conduct offense or for any other reason, we can help you escape this situation with minimal impact. In fact, it is common for our lawyers to avert a conviction altogether to disorderly persons offenses and traffic violations. If you or your loved one has been charged with any offense in the Borough of Manasquan, call our Wall Township Office for immediate assistance at 732-449-2292. The initial consultation with our attorney is free of charge.
Manasquan NJ Municipal Court Information
Manasquan Municipal Court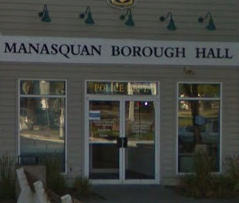 deals with all varieties of misdemeanor criminal and motor vehicle charges issued within the borough. The court is located at 201 E. Main Street, Manasquan NJ 08736, and appears as depicted in the photo to the right. Honorable Paul J. Capotorto, a long time practitioner in the area, serves as the judge of Manasquan Municipal Court. Marie Higgins is the Administrator and can be reached daily from 8:30-4:00 at 732-223-0600. The prosecutor is Ronald Sage, Esq. Mr. Marshall has appeared in the court on a routine basis for the last twenty plus years and is extremely familiar with both Judge Capotorto and Prosecutor Sage, as well as many of the police officers in the Borough. Court sessions are conducted on the first and third Wednesday of each month.
Charged With An Offense In Manasquan New Jersey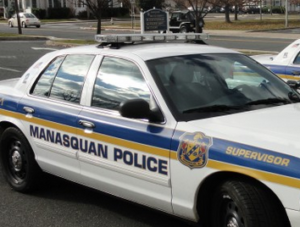 As one of the most popular summer destinations on the Jersey Shore with bars like Leggetts, the Osprey and the Manasquan Beach House, a large portion of the charges in the town are filed during the summer. This is the time when there is a significant influx of vacationers along with expansion of the Manasquan Police Department with "special" seasonal officers. Over the last year, 300 municipal court criminal offenses were filed in Manasquan although felony charges were comparatively law at 74 crimes of the first, second, third or fourth degree. Moving traffic violations for driving without insurance, careless driving, reckless driving, leaving the scene of an accident and driving while revoked totaled 2,248.
Manasquan Criminal, DWI & Traffic Lawyers
As you may have inferred from the aforesaid, our criminal lawyers are well equipped to defend a Manasquan Simple Assault Offense or any other violation filed in the borough. We have been representing clients just like you in this jurisdiction for DUI and other offenses for many years with success. To speak to an attorney with the experience you need, call our Wall Township Office 732-449-2292 for a free consultation. Our Manasquan defense lawyers are ready to help you immediately.
Additional Manasquan Offense Resource Pages