CDS Possession & Distribution Charges in Holmdel NJ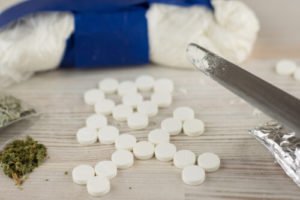 If you have been charged with a drug offense in Holmdel, perhaps at PNC Bank Arts Center, our attorneys are available to assist you. We are not only the largest criminal firm in Monmouth County but one comprised of attorneys with long time roots in Holmdel. One of the lawyers has even served as prosecutor in Holmdel Municipal Court. Whether your charges involve possession or distribution of drugs, we are prepared to invest our 100 plus years of combined experience to get you a favorable resolution. Don't let a marijuana, MDMA, heroin or other controlled dangerous substance ("CDS") land you in jail and/or subject you to other serious penalties, call us now.
Drug Charge in Holmdel
Possession of any quantity of CDS is typically a felony criminal offense with the exception of less than 50 grams of marijuana. Possessing cocaine, heroin, MDMA or in excess of 50 grams of weed involves a charge that can only be decided at the Superior Court level. Typically, someone who possesses drugs like these faces a third degree crime with a maximum fine of $35,000, up to 5 years in prison, and a 6-24 months driver's license revocation. It takes skillful representation to sidestep consequences like these and this is something our firm can absolutely achieve in a high percentage of cases. We are accomplished defense lawyers who handle Holmdel drug cases involving:

Heroin
Marijuana
Cocaine
MDMA (a.k.a. Molly, Ecstasy, etc.)
Prescription drugs like Xanax, Valium, Morphine, GHB, Oxycodone, Adderall,
Ritalin and Hydrocodone
LSD
Methamphetamine
Ketamine
Possession of drugs is nothing to take lightly. Whether you were arrested at school, on a local roadway in the township, on the Garden State Parkway or at PNC Arts Center, possessing an illegal drug in Holmdel exposes you to significant punishment.
Arrested For Distributing Drugs in Holmdel
An entirely different set of laws applies if your drug charge involves selling, distributing or possession with the intent to distribute. The general distribution statute that applies when this is the case is N.J.S.A. 2C:35-5 although any number of laws may be implicated depending on where the conduct occurred in Holmdel. If you are accused of selling heroin, MDMA or even marijuana in Holmdel Park or another recreational facility, you may be facing a separate charge for distribution in a public park. Another separate offense may have arisen if it is alleged that you sold a drug/cds at Holmdel High School or in another school zone of the township. The point is that cds distribution charge can take on many issues and, in addition, is always an indictable crime that can land you in state prison.
Holmdel NJ Drug Charges Attorneys
Our experienced Holmdel Criminal Lawyers have handled countless cds/drug cases arising throughout the township, including at PNC Center. If you or a loved one was arrested by a state trooper or local police officer for possession of drugs or distribution of any form of CDS, we can certainly provide valuable guidance. Our firm represents the largest criminal defense firm in the county with several former prosecutor on staff, including one who has served in Holmdel. Should you choose to hire us, you will have the benefit of our decades of knowledge and contacts. An attorney is prepared to speak to you immediately about your Holmdel drug charge.
Related Holmdel Resource Pages & Posts