Holmdel NJ Criminal Lawyer
Contact Our Holmdel Office To Speak To The Former Prosecutor Of Holmdel New Jersey
Holmdel has one of the busiest courts in Monmouth County. Three factors definitely contribute to the extreme number of violations in the township despite its being ranked as the #1 Six Figure by Money Magazine and CNN in 2009. First, the long section of the Garden State Parkway that runs through municipality generates many Holmdel DWI and other traffic offenses. Second, PNC Bank Arts Center is located within the borders of the town and attracts hundreds of thousands, including individuals illegally consuming drugs and alcohol. Third, there are a significant number of filings that are generated in this venue simply because it is the home of largest New Jersey State Police barracks, Holmdel Station of Troop D. These unique circumstances result in an extraordinary number of criminal offenses and traffic violations generated every year. If you are facing a charge in Holmdel, our firm has exceptional qualifications to assist you. We have not only been defending cases from this jurisdiction for well over twenty years but even feature an attorney who formerly served as its municipal prosecutor. To speak to one of our lawyers in a free initial consultation, contact our firm online or call our Middletown Office at 732-681-0080.
Former Holmdel Prosecutor & Other Skilled Attorneys Are Ready To Defend You
At the Law Offices of Jonathan F. Marshall, we feature of a team of defense lawyers that includes several former prosecutors in the county. This staff includes Matthew Dorry who served as prosecutor in Holmdel Municipal Court before joining our firm. Mr. Marshall also served as prosecutor in the adjacent towns of Hazlet and Matawan, and substitute prosecutor in Aberdeen and Colts Neck. The attorneys in our office are extremely familiar with the operation and personnel in the municipal court, as well as what it takes to succeed on behalf of the clients charged with harassment, shoplifting, disorderly conduct and other offenses. Indeed, we have been appearing in the Municipal Court of Holmdel Township for over 100 years combined.
When an individual is arrested in Holmdel for a first, second, third or fourth degree crime, the violation is referred to as an indictable offense. Charges that fall within this level of severity are outside the jurisdiction of the municipal court and can only be handled at the Superior Court in Freehold.
Holmdel Municipal Court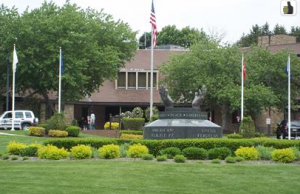 Address: 4 Crawfords Corner Road, Holmdel, NJ 07733
Telephone Number: 732-946-2820
Judge: Honorable Mary Casey
Prosecutor: Citta,Holzapfel & Zabarsky
Court Administrator: Mary Lou Donnelly
Hours of Operation: 8:30 a.m. – 4:30 p.m.
Court Sessions: Every Monday & Wednesday at 9:00 a.m.
Holmdel Defense Attorneys
For someone who is inexperienced with the criminal justice system, being arrested for possessing drugs or some other criminal offense can be extremely unnerving. The same could be said in terms of the intimidation and fear most have when stopped by the Holmdel Police or by a State Trooper within the Township. So many emotions come to mind including the penalties and other consequences that could result if you are convicted of the related summons, ticket or complaint. This is where the attorneys at our firm can into play. We are skilled advocates that appear in Municipal Court and at the Monmouth County Superior Court on charges arising in Holmdel NJ. Our Holmdel Defense Attorneys know their craft well and, as a result, avoid conviction far more often than not. If you are faced with the aftermath of a charge in Holmdel Township New Jersey, call us at 732-681-0080. We know we can help you and the consultation is free.
Additional Information Regarding Criminal Charges in Holmdel Township
More Detailed Articles About Holmdel NJ Traffic Offenses
Speeding
Reckless Driving