Charged With Possessing Heroin in Middletown Township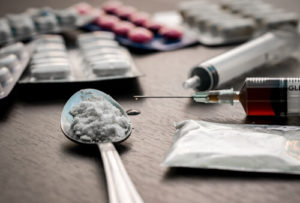 The criminal lawyers at The Law Offices of Jonathan F. Marshall have witnessed the horrors of heroin possession in Middletown Township and other municipalities in Monmouth County over the last two decades. As former prosecutors and members of the largest defense firm in the area, we have handled way too many charges for possessing heroin in Middletown and elsewhere. There has not been a more powerful and debilitating form of controlled dangerous substance that our Middletown Criminal Attorneys have confronted so we are well aware of your needs when it comes to defending a possession charge involving this drug. We have over 100 years of combined experience handling possession of heroin offenses at the Monmouth County Superior Court and remanded cases in Middletown Municipal Court. If you arrested and charged for possessing heroin in Middletown, call us for a free consultation at 732-615-0039. You can contact our Middletown Office 24/7 to speak to an attorney immediately.
Heroin Possession in Middletown New Jersey
The law that applies to every heroin possession case filed in Middletown is N.J.S.A. 2C:35-10. You are guilty of this third degree crime if you caught in knowing possession of heroin. You do something "knowingly" when you are aware of the nature of the conduct, for purposes here, that you have some form of possession of the drug. An individual can possess any form of CDS in violation of 2C:35-10 if they have direct physical control of an illegal drug or constructive possession of the item. Constructive possession arises when someone, while not actually possessing the heroin, knows that it is present and intends to take control over it in the future. The classic example of this concept is where drugs are hidden in an apartment, car or truck by someone who intends to either personally use the cds or sell it.
Court With Jurisdiction To Hear Your Case. A heroin possession charge is a third degree crime, an indictable felony, that falls under the jurisdiction of the Superior Court in Freehold New Jersey. As a result, your offense will have to be referred to this court for handling.
Penalties If You Are Convicted. Possession of heroin is a felony so you will have a record for committing a serious criminal offense if you fail to avoid a plea or finding of guilt to this offense. The direct penalties for this third degree crime include exposure to a prison term of up to 5 years and a fine of up to $35,000. A conviction also results in a driver's license suspension of 6-24 months.
Diversion Programs. There are two potential diversion programs that come into play when someone is facing an indictable drug crime and they are Pretrial Intervention and Drug Court. There are strict guidelines for gaining admission into either so you are best served in retaining a knowledgeable criminal attorney to insure the best chance being admitted.
Middletown NJ Heroin Possession Defense Lawyer
A charge for possession of heroin can be very complex given the addictive nature of the drug and stakes involved in such as case. This is why it is particularly important to retain a defense lawyer with experience handling heroin charges in Middletown and Monmouth County. The attorneys that comprise our staff include former prosecutors who have handled too many heroin related offenses over the years to even quantify. In some instances, they have also prosecuted these matters. The point is that our lawyers have both extensive familiarity with this area of criminal law to provide the level of service you deserve. For a consultation with an attorney at the firm, call 732-615-0039.
Additional Middletown NJ Legal Resources To Assist You