Heroin Charges in Monmouth County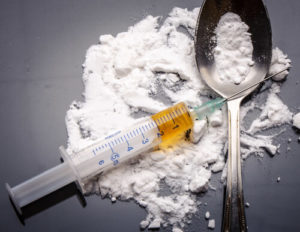 If you were arrested on a heroin charge anywhere in Monmouth County, there are a few things you need to know. Because heroin is a highly addictive opioid drug that is derived from morphine, it falls under Schedule I of the Controlled Dangerous Substances Act. This means that this substance cannot be possessed or distributed in any quantity legally. When someone is arrested for possession and there is no allegation of distribution or intent to distribute, N.J.S.A. 2C:35-10 is the offense that applies.
If the police in Middletown, Aberdeen, Holmdel, Marlboro, Hazlet or another town claim that you were selling or distributing heroin, then the related New Jersey criminal charge is N.J.S.A. 2C:35-5. Irrespective of which category of heroin offense resulted in your being arrested, you need to take steps to protect yourself as a conviction will have significant ramifications including a felony record, loss of your driver's license for at least 6 months, thousands of dollars in financial consequences and being exposed to a state prison sentence of at least five years.
With stakes as high as these, it is an absolute imperative that you secure the very best attorney you can afford. At The Law Offices of Jonathan F. Marshall, we can offer a unique assemblage of former prosecutors and other attorneys who have been defending heroin cases for over 100 years combined. To take advantage of a free initial consultation with one of our lawyers any time 24/7, call our Red Bank Office at 732-450-8300 or Freehold Office at 732-462-1197.
I. Possession of Heroin
For many reasons, including the lack of any accepted medical use, heroin possession is totally illegal in New Jersey. Possession is a third degree crime, a felony, in accordance with N.J.S.A. 2C:35-10. As a result, your heroin possession case will be heard in Freehold New Jersey at the Monmouth County Superior Court since this is the only court with jurisdiction to decide an indictable crime (i.e. crime of the fourth, third, second or first degree). To prove that you violated 2C:35-10, the prosecutor must establish that you had actual or constructive possession of heroin. Actual possession exists where there is physical custody of the drug. Constructive possession arises when an individual, lacking direct physical possession, has knowledge of the presence of the CDS along an ability and intention to take control of it at some point in the future. The State uses various methods in order to prove constructive possession of heroin including the defendant's knowledge of the presence of the drug, prior use and history of arrests, existence of hypodermic needles or other paraphernalia, statements of third parties, admissions, etc. The gist of all of this is that constructive possession, which typically arises as the result of a car, house or apartment search involving multiple parties who deny ownership, is a fact sensitive determination. For this reason it can prove to be a fertile area of defense for a skilled heroin defense lawyer like those at our firm. We represent client's throughout the county just like you who have been arrested and charged with heroin possession in towns like Freehold, Howell, Wall, Colts Neck and Tinton Fall.
Penalties For Possessing Heroin. As previously stated, heroin possession is a third degree crime that carries the possibility of a prison term of between three (3) and five (5) years. A conviction for possession of heroin also results in a fine that can reach $35,000 and imposition of a drug enforcement and demand reduction penalty of $1,000. In addition, a mandatory driver's license suspension ranging between six (6) months and one (1) year must be imposed. If the possession occurs within 1,000 feet of property owned or leased by a school and used for school purposes, the accused must perform at least 100 hours of community service. On top of all these penalties, anyone found guilty of heroin possession is left with a criminal record that is accessible to employers and other interested parties. A history of felony behavior that includes use of heroin is obviously something that can cause serious issues in terms of employment, securing a professional license, loans, etc.
As you can see, possession of heroin is a serious crime that requires the attention of an experienced defense lawyer. Contact a qualified drug attorney at The Law Offices of Jonathan Marshall today for a free initial consultation to discuss your heroin possession charge.
II. Distribution of Heroin
A person who pleads guilty to or is convicted of manufacturing, distributing, or possessing heroin with intent to distribute it, is guilty under N.J.S.A. 2C:35-5 of a first degree, second degree or third degree crime depending on the quantity involved. The prosecution in Freehold must prove three elements in order to convict someone of heroin distribution. First, the state must establish that the substance in question was heroin or counterfeit heroin. Second, the prosecutor must demonstrate, beyond reasonable doubt, that you manufactured, distributed, dispensed or possessed the heroin with intent to distribute it. Third, this conduct must be undertaken "knowingly or purposely".  An individual cannot be convicted for selling or distributing heroin if their involvement in this activity was unintentionally.
Grading of Heroin Distribution Charges. The severity of the penalties an individual faces for heroin distribution hinges on the quantity of the drugs involved. A first degree distribution charge is the most serious with second degree and third degree carrying less severe consequences. It should be kept in mind that the law allows the Monmouth County Prosecutor's Office to aggregate (add together) multiple acts of distribution (such as several drug sales over the course of one night or one week) in determining the quantity of heroin distributed or sold. It is a third degree crime to sell or possess a half ounce or less of heroin with the intent to distribute the drug. Selling, distributing, or possession with intent to distribute at least a half ounce but less than five ounces of heroin is a second degree crime. Where a violation of N.J.S.A. 2C:35-5 involves five ounces or more of heroin, a conviction results in a first degree crime. It is obviously in your best interest to secure a reduction in the grade of heroin distribution that was charged in Neptune, Ocean, Eatontown, West Long Branch, or Deal, and this is something that our skilled attorneys are capable of securing in most cases.
Penalties for Selling or Distributing Heroin. As previously indicated, the range of penalties an individual faces at the Freehold Courthouse for violation of N.J.S.A. 2C:35-5 hinges on the quantity of heroin being sold or distributed. The following is a breakdown of the penalties for each grade of this offense:
First Degree Crime. The prison term for first degree distribution of heroin is 10-20 years. At the time of sentencing in a first degree heroin case, the judge must impose a mandatory minimum period of incarceration of at least one-third and as much as one-half of the sentence imposed during which the defendant is ineligible for release on parole. In addition, the standard fines set forth N.J.S.2C:43-3 does not apply in first degree heroin trafficking cases. The potential fine is increased to $500,000 under N.J.S.A. 2C:35-5 and there is also a mandatory Drug Enforcement and Demand Reduction Penalty ("DEDR") of $3,000.
Second Degree Crime. In second degree possession with intent to distribute cases, the court may impose a sentence that includes 5-10 years in jail/prison, a maximum fine of $150,000 and a DEDR of $2,000.
Third Degree Crime. A third degree crime for distributing/selling heroin also departs from 2C:43-3 in terms of the standard fine. A third degree distribution of heroin conviction carries a potential fine of $75,000. The jail term may be up to five years in prison. The DEDR is $1,000.
Driver's License Suspension. Since there is a mandatory suspension of driving privileges whenever someone is found guilty or pleads guilty to a drug offense in New Jersey, anyone convicted under 2C:35-5 is exposed to this collateral penalty. This loss of license can range from 6 months to 2 years but can be reduced or eliminated if a defendant can prove "extreme hardship".
Extended Prison Terms. There are certain repeat offenders who are eligible for extended terms of imprisonment. In certain instances a defendant's record will be so severe that an extended term is mandatory and in others it will be discretionary. For more information on this subject, you may refer to N.J.S.A. 2C:43-7.
Brimage Guidelines. An individual is automatically subject to a period of parole ineligibility/mandatory minimum term of imprisonment if they fall within the Brimage Guidelines. The classic scenario where this applies is when an individual is convicted for a second or subsequent drug distribution offense.
III. Possession With Intent to Distribute Heroin in a School Zone
Selling heroin in a school zone can be a dicey proposition given that N.J.S.A. 2C:35-7 imposes additional consequences above what applies under N.J.S.A. 2C:35-5. For this law to apply, the distribution must occur within 1,000 feet of property owned or lease by a school or school board and used for school purposes. This area is what is commonly referred to as a "school zone". A violation of this law results in a fine of up to $150,000 and a prison term that must include a mandatory minimum term of imprisonment "fixed at, or between, one-third and one-half of the sentence imposed, or three years, whichever is greater, during which the defendant shall be ineligible for parole." What this means is that you will have to serve a minimum of three years in prison if you are convicted of distributing or selling heroin in a school zone. In addition, this offense does not merge with a 2C:35-5 conviction thereby exposing an offender to the penalties that apply under both statutes. While a lack of knowledge or intent to sell/distribute in a school zone, lack of juveniles in the area, and school not being in session are no defenses under N.J.S.A. 2C:35-7, there is an affirmative defense that applies to this offense. In this regard, if you can prove that the possession with intent to distribute occurred entirely within a residence, that no one 17 years or younger were present, and that your distributing, dispensing or possessing with the intent to distribute was not "for profit", there is no violation of this law.
IV. Distributing or Selling Heroin in a Public Park
N.J.S.A. 2C:35-7.1 applies where distribution occurs within 500 feet of a public park or public housing project. This statutes creates a second degree crime that arises irrespective of the weight of heroin that was allegedly sold. This violation is an entirely separate offense to a 2C:35-5 distribution charge and the two charges do not merge at the time of sentencing. If you are facing a public park charge in Asbury Park, Bradley Beach, Belmar, Lake Como, Spring Lake, or Manasquan, you should know that there exists an affirmative defense that could potentially negate this violation. This defense applies where the distribution/trafficking activities were not for profit nor involve a minor 17 or younger.
Pretrial Intervention & Drug Court in Heroin Cases
The Pretrial Intervention Program ("PTI") allows an individual to forgo prosecution by entering a rehabilitation program which, if successfully completed, results in dismissal of the heroin offense. To be eligible for PTI, the accused must be a first time offender, never have taken a PTI or conditional discharge previously, and must be facing a third degree crime. Second degree and first degree crimes are ineligible for PTI. The benefit of this program is avoidance of a criminal record as well as all of the penalties that would otherwise apply if they were convicted of the offense for which they were arrested.
Drug Court is another diversionary program except its use is generally limited to instances where an accused is facing significant state prison time as a result of drug or alcohol addictive conduct. There are strict eligibility requirements for Drug Court including, for example, its inapplicability to violent crimes (e.g. robbery) or those involving firearms. In order to gain admission into this program, the applicant must be both clinically (i.e. drug dependent) and legally eligible for admission. There is also customarily a requirement that a candidate serve a period of inpatient drug treatment as a condition of admission into Drug Court.
Freehold NJ Heroin Lawyers
Although possession and distribution of heroin charges are filed locally in Atlantic Highlands, Long Branch , Manalapan, Red Bank, Rumson, and Sea Bright, all offenses involving this drug end up at the Monmouth County Superior Court in Freehold NJ. The reason why this is the case is because this is the only court in the county with authority to deal with indictable crimes like heroin offenses. We are former prosecutors in this jurisdiction and appear in Freehold on virtually a daily basis. Our lawyers obviously know their way around the Courthouse and how to effectively defend a heroin charge. Call us anytime of day or night for assistance with bail, to speak to an attorney, or to set up an appointment in our Freehold Office or Red Bank Office.
Related Resource Pages & Posts