Rumson NJ Leaving the Scene Attorney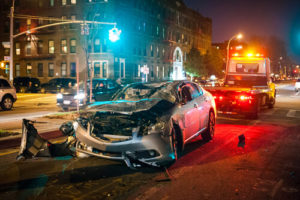 Involvement in an accident resulting in serious injury can be scary and disorienting. Judgment is not always the best with so much confusion and emotions running rampant. Leaving the scene of the collision can happen instantaneously out of fear but this obviously a poor decision. The reason is that N.J.S.A. 2C:12-1.1 makes this conduct a third-degree crime that may be filed in addition to charges like assault by auto or aggravated assault. The situation can even mushroom into a violation of N.J.S.A. 2C:11-5.1, leaving the scene of an accident result in death, manslaughter or vehicular homicide if someone dies as a result of recklessness.
At our firm, The Law Offices of Jonathan F. Marshall, we can offer experienced representation from Monmouth County's largest criminal defense team. Our eight (8) defense attorneys include several former prosecutors and a battery of counsel that possesses the skills to achieve the best outcome of your charge. For your free initial consultation, you may call our Red Bank Office at 732-450-8300 or Freehold Office 732-462-1197 anytime 24/7 for a free consultation.
Leaving the Scene of an Accident Resulting in Death
Since there is a clear obligation for anyone involved in an accident to remain at the scene, fleeing the site clearly violates the New Jersey Law. The situation escalates, however, into a second-degree crime when what would otherwise be a traffic offense for leaving the scene of an accident involves a death. Your decision to leave the scene results in a second-degree crime punishable by up to 10 years in prison and a $150,000 fine as long as you were aware that you were involved in an accident. A driver can be convicted for the second degree crime of leaving the scene of a fatal car accident if: (1) they knew or reasonably should have known they were in an accident; (2) left the scene; and (3) an individual involved in the accident was killed or suffered fatal bodily injury. You will note that the elements do not include a requirement that the prosecutor proves that the accused was aware of the nature of the injury or that someone died. If you were arrested for violating N.J.S.A. 2C:11-5 This charge is obviously extremely serious and you are strongly encouraged to contact an attorney immediately if you have been arrested for violating N.J.S.A. 2C:11-5 in Wall, Hazlet, Neptune, Colts Neck, Freehold, or Manalapan.
Leaving the Scene of a Collision Involving Serious Personal Injury
When someone is involved in an accident where someone sustains serious personal injury, they have a duty as with all collisions to remain at the scene. If they leave the location, they are exposed to a N.J.S.A. 2C:12-1.1 offense. The elements for this violation are the same as for an accident involving death except that the state is required to prove serious bodily injury instead of a fatality. Serious bodily injury means a condition that creates a substantial risk of death or causes serious disfigurement or a protracted loss of bodily function. This third-degree crime can result in up to 5 years in prison and a maximum fine of $15,000.
NJ Leaving The Scene Lawyers
Whether you are facing a traffic offense for leaving the scene of an accident or the criminal offenses set forth in this article, you are exposed to ramifications that can cause severe hardship. A mandatory driver's license suspension is the absolute minimum if you are convicted and the consequences escalate dramatically from there if someone was seriously injured or died. If you were in an accident in Englishtown, Holmdel, Rumson, Howell, Aberdeen or Middletown, and left the scene of the accident, call our office immediately. Our attorneys can help you avoid penalties and are available to assist you in a free consultation now.