Pointing Offense Attorneys, Freehold NJ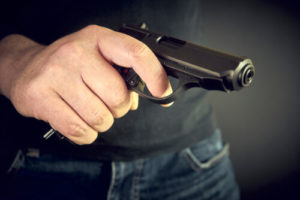 One of the many varieties of aggravated assault offense set forth under N.J.S.A. 2C:12-1(b) is pointing. This violation can arise in three (3) different ways and results in either a third degree or fourth degree aggravated assault offense. If you were arrested for pointing a firearm at a person or police officer in Asbury Park, Neptune, Belmar, Holmdel, West Long Branch, or Union Beach, the only place the case may be adjudicated is in Freehold. Jurisdiction to decide indictable felony crimes rests solely with the Monmouth County Superior Court which is located in Freehold NJ. Our law firm has been a mainstay in the county since the nineties with several former prosecutors on staff. Here at The Law Offices of Jonathan F. Marshall, we have successfully defended an unquantifiable number of assault charges and are prepared to put our knowledge and 100 plus years of combined criminal experience to work for you. Call our Freehold Office or Red Bank Office now for an immediate free consultation with our of our attorneys.
Aggravated Assault Offense For Pointing A Firearm
An aggravated assault charge can arise from pointing a weapon under subsection (4), (9) or (10) of N.J.S.A. 2C:12-1(b). A similar violation occurs when someone points a laser sighting system or device under N.J.S.A. 2C:12-1(b)(11). The following is a brief summary of the law that applies under each of these scenarios.
Knowingly Pointing A Firearm Under Circumstances Manifesting Extreme Indifference to the Value of Human Life. Fourth degree aggravated results if someone knowingly under circumstances manifesting extreme indifference to the value of human life points a firearm at or in the direction of another. Knowledge that the firearm is loaded is not a required element to prove someone guilty of this offense. "Firearm" includes a handgun, rifle, shotgun or other object capable of firing a solid ball, slug, missile, bullet, gas or other noxious thing, or explosive. A pellet or BB gun would satisfy this definition. Four elements must be established under subsection (4) to secure a conviction. First, the defendant must possess a "firearm". Second, he must point it at another. Third, the accused must have acted knowingly. Fourth, the defendant's actions must have manifested extreme indifference to the value of human life
Pointing A Firearm At A Police Officer. It is a third degree crime to point a knowingly points or displays a firearm, under circumstances manifesting extreme indifference to the value of human life, in the direction of a police officer. One clear difference between this pointing offense and the previous one described is that the victim be a police officer. Another difference is that subsection (9) applies simply by "displaying" the weapon at or in the direction of the law enforcement officer. The third important distinction is that the No Early Release Act ("NERA") applies to a pointing charge under N.J.S.A. 2C:12-1(b)(9). A defendant must serve 85% of any prison/jail sentence imposed before being eligible for parole.
Knowingly Pointing An Imitation Firearm. This third degree form of aggravated assault applies where an individual points, displays or uses an imitation firearm for the purpose to intimidate, threaten or attempt to put a police officer in fear of bodily injury or for any unlawful purpose. NERA also applies to this form of pointing.
Middletown NJ Pointing A Firearm Defense Lawyer
Middletown has as many pointing charges as any in Monmouth County as the municipality with the highest population. That does not mean that firearm violations do not also occur in Ocean Township, Marlboro, Long Branch, Manalapan and other communities as well. If you were arrested and/or charged with pointing a firearm at a police officer or persons, we can help you escape a finding of guilt. We are team of criminal attorneys who have over 100 years of knowledge and skill between us to put into your case. It also helps that we have been practicing primarily in this county and have even been employed as prosecutors in this jurisdiction. Let us review the facts of surrounding your charge or indictment. We are certain our attorneys can assist you.