Freehold NJ Assault of a Police Officer Lawyers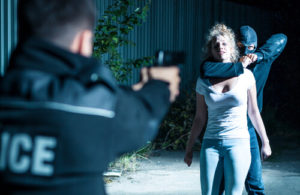 If you or a loved one was arrested Belmar, Manasquan, or elsewhere in Monmouth County, for aggravated assault based on allegations that a police officer was punched, slapped, pushed, tackled or otherwise injured, we can help you. Our firm has over 100 years of collective experience defending charges stemming from alleged assaults on police and even includes multiple former prosecutors in Monmouth County. Whether your case arises out of an encounter in Manasquan, Belmar or elsewhere, all aggravated assault charges are handled at the Superior Court in Freehold as they are indictable offenses. We have exactly what you need to successfully defend an assault on a police officer case at this venue, including:
Over 200 years of combined experience defending aggravated assault on a police officer cases in Monmouth County
A team of ten Freehold criminal defense lawyers that specialize in defending the accused
Former Monmouth County prosecutors who served as Director of the entire Trial Division, the Major Crimes Bureau, Juvenile, Domestic Violence, Special Operations, and other high-level positions
Certified criminal trial attorneys on stafff
So give our Freehold office a call to schedule an appointment or to speak to one of our seasoned defense lawyers immediately. We hope you find the information that follows of assistance and do not hesitate to contact us for assistance.
Assaulting a Police Officer in Monmouth County: The Law. A person is guilty of aggravated assault under N.J.S.A. 2C:12-1(b)(5)(a)("Assault on a Police Officer"), if he or she attempts to cause a simple assault or actually commits a simple assault on a law enforcement officer. In other words, it is a felony offense — an aggravated assault — whenever there is any form of assault, even a simple assault, on a police officer.
Grading of Offense. It is a third-degree crime if the victim suffers bodily injury as a result of the assault. It is a fourth-degree crime if no bodily injury occurs. Since both grades fall within the category of an indictable offense, they result in a felony criminal record. This is also the reason why they are always heard at the county court in Freehold New Jersey.
Jail Exposure. The potential jail for a Third Degree Aggravated Assault on a Police Officer is up to five (5) years in state prison. The exposure for a Fourth Degree Aggravated Assault on a Police Officer is a maximum of eighteen (18) months.
Fines. The fine for a third-degree crime is up to $15,000. An aggravated assault of the fourth degree triggers a fine of up to $10,000.
Probation and/or Parole. At the time of sentencing, the court may order a term of probation. Probation may be subject to a period of county jail time or a defendant may sentenced to "straight probation" without any stipulation as to time in jail prior to probation. Parole results where an individual is sentenced to prison and is paroled.
The No Early Release Act (NERA) Applies. If you have been charged with the aggravated assault of a police officer, you must serve eighty-five (85) percent of your sentence before being eligible for parole. Call our experienced criminal defense lawyers today so that we can fight for you and work toward avoiding this severe penalty.
Belmar Aggravated Assault of a Police Officer Attorney
The Borough of Belmar explodes with beach and party-goers every summer. The same is true for other shore towns like Manasquan, Lake Como, Bradley Beach, Wall, Avon and Long Branch. This influx also brings a tendency of too much interaction between police and patrons that can lead to conflict. When things get physical with a police officer you can count on a resisting arrest and an aggravated assault offense to be filed. This is no different than what would happen in Middletown, Keansburg, Asbury Park, Manalapan or another town in the county except the frequency is probably much less than during the summer in Belmar. If you were arrested and charged with assaulting a police officer anywhere in Monmouth County, call our Freehold Office now for immediate assistance. An attorney our team will give you the time you need and the consultation is free.